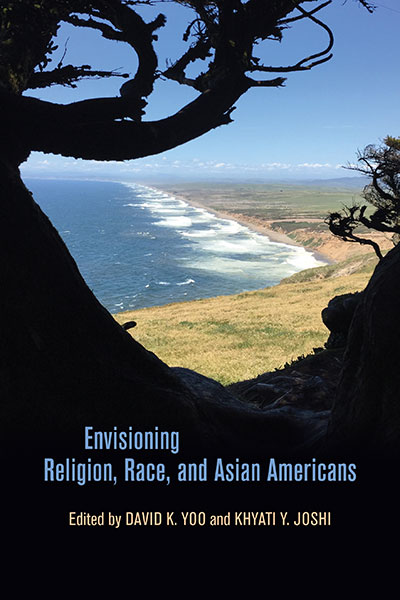 Buy the book
ABOUT THE BOOK
In Envisioning Religion, Race, and Asian Americans, David K. Yoo and Khyati Y. Joshi assemble a wide-ranging and important collection of essays documenting the intersections of race and religion and Asian American communities — a combination so often missing both in the scholarly literature and in public discourse. Issues of religion and race/ethnicity undergird current national debates around immigration, racial profiling, and democratic freedoms, but these issues, as the contributors document, are longstanding ones in the United States.
The essays feature dimensions of traditions such as Islam, Hinduism, and Sikhism, as well as how religion engages with topics that include religious affiliation (or lack thereof), the legacy of the Vietnam War, and popular culture. The contributors also address the role of survey data, pedagogy, methodology, and literature that is richly complementary and necessary for understanding the scope and range of the subject of Asian American religions. These essays attest to the vibrancy and diversity of Asian American religions, while at the same time situating these conversations in a scholarly lineage and discourse.
This collection will certainly serve as an invaluable resource for scholars, students, and general readers with interests in Asian American religions, ethnic and Asian American studies, religious studies, American studies, and related fields that focus on immigration and race.
Read more
TABLE OF CONTENTS
Acknowledgments
Introduction
David K. Yoo and Khyati Y. Joshi
Part I. Reflections of the Past and Present
1) Reconstructing Asian America's Religious Past: A Historiography
Helen Jin Kim
2) Asian American Religious Beliefs Reconsidered
Jerry Z. Park
Part II. Glimpses of Religion and Empire
3) Outsider Citizens within the US Empire: Muslim Youth Race, Religion, and Identity
Arshad Imtiaz Ali
4) American Apartheid for the New Millennium: The Racialization and Repression of Asian
American Religious Minorities
5) Where the History Books End: Religion and Vietnamese America in the Afterlife of the Vietnam War
Mimi Khúc
Part III. Revealing Religious Formations
6) The Gospel According to Rice: The Next Asian American Christianity
Rudy V. Busto
7) Postscript: (Re)Thinking and (Re)Creating Asian American Christianities through a Gospel According to (Fried) Rice?
Tat-siong Benny Liew
8) Modernity in the Service of Tradition: Women and Gender within Hinduism in the United States
Anjana Narayan and Bandana Purkayastha
9) Life in the Fishbowl: An Asian American Autobiographical Theological Reflection
Joseph Cheah
Part IV. Visualizing Subjectivities
10) Learning Hindu Religion through Comics and Popular Culture
Sailaja Krishnamurti
11) Queer Asian American Theologies
Patrick S. Cheng
12) The Roots of Chinese American Religious Nones: Continuities with the Liyi Tradition
Seanan Fong and Russell Jeung
Bibliography
Contributors
Index
---